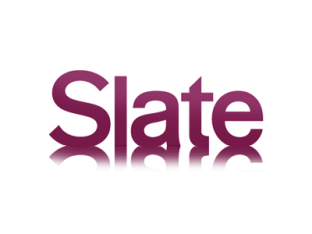 … Introduces David Plotz's Big Thinking Lecture:
"Fast, cheap, and out of control: How the Internet has made journalism better than it's ever been"
One of the many benefits of hosting the Congress of the Humanities and Social Sciences?is that you get to nominate the Big Thinking Lecturers. From the first Big Thinking committee meeting to the last, I pushed for David Plotz, the Editor-in-Chief of the online magazine Slate. My Brock colleagues, and then the Federation of the Social Sciences and Humanities, enthusiastically agreed; David accepted. The night before his talk, Anne-Marie and I took David out for dinner, and of course he's as cool in person as he is in his podcasts, articles, and books. The following day I had the privilege of introducing his lecture. Here's what I said.
***
Last year, a widely-cited survey by the global job-search Web site, CareerCast.com, ranked jobs from best, at 1, to worst, at 200. Lumberjacks placed 198.? Soldiers, 199. University professors?…. 14.? And who came in at number 200, out of 200, who took the title of "Worst Job of 2013"? Those would newspaper reporters. According to CareerCast.com, "ever-shrinking newsrooms, dwindling budgets and competition from Internet businesses" made the job of newspaper journalist America's worst. "Of course," the report added, "newspaper reporters have fared poorly in the Jobs Rated report for years due to the job's high stress and tight deadlines, low pay, and requirement to work in all conditions to get the story." The report noted that the job picture for them would only get worse in the years to come.
I know this because I read it in Slate, an online magazine that, since its launch in the late 1990s, has moved in the opposite direction of the newspaper industry. While newspapers and magazines have been closing their doors, Slate has enjoyed a growing readership, increasing impact, and most importantly, an expanding team of journalists who give every indication of believing their job to be America's best.
First among these is our speaker this morning, David Plotz, the Editor in Chief of Slate since 2008. A graduate of Harvard College, he is married to Hanna Rosin, also a member of the Slate team, and the author most recently of The End of Men. They live in Washington with their three children.? During David's tenure at the helm of Slate, the magazine has won two National Magazine Awards (including one for General Excellence)?and been nominated for 12.
I've been a long-time reader of David, Hanna, and their colleagues at Slate. I know that I'm not alone among academics, and especially humanists and social scientists. I know that with a few keystrokes I can find something curious, compelling, and new. That's why its the first Web site I visit in the morning, the last thing I read at night, and, alas, the place I go to far too often during the day while I procrastinate.
But it's more than a compulsive curiosity that drives me to Slate. It's also a desire for community. And Slate has excelled at making its readers feel like they are part of something bigger. You can see this in their commitment to podcasts. I don't especially like making dinner, but I discovered that I enjoy cooking if everyone leaves me alone in the kitchen, and I can chop and stir with John Dickerson, Emily Bazelon, and David, during the Slate Political Gabfest, their weekly roundtable discussion. You can also see this commitment to community-building? in their recent launch of Slate Plus, which essentially gives subscribers like me increased access to their favourite Slate writers and editors.
Slate Plus is just the latest manifestation of a long-term commitment by David and his colleagues to use today's technology to improve journalism. This is also evident in David's columns. His first book: "The Genius Factory: The Curious History of the Nobel Prize Sperm Bank", began when he wrote an article in Slate asking readers to tell him, in confidence, anything they knew about the sperm bank. You can also see it his second book, 2009's "Good Book: The Bizarre, Hilarious, Disturbing, Marvelous, and Inspiring Things I Learned When I Read Every Single Word of the Bible"; it was first written for the Web, as David read, then posted his thoughts to Slate… read, then posted his thoughts to Slate… every few days, over the course of many months.
But one can ride a technological wave only so far, and ultimately David and his colleagues have succeeded because of their words and ideas. When the rest of the Internet lamented the political shenanigans of the Governor of New Jersey, David wrote a column titled "Politics Should be Dirtier: bullying, retaliation, back-scratching – Chris Christie was on to something". When the city of Washington went into mourning over the passing of Hsing Hsing, its beloved panda, David wrote "Panda Bore", decrying our obsession with the "semi-bears", and calling them out for being not just boring and neurotic, but downright unpleasant.
Reading his articles, listening to his podcasts, and watching his leadership of Slate, you can't help but be informed, entertained and enriched, and convinced that, as the title of his Big Thinking Lecture suggests, for all of its ills, the fast, cheap and out of control Internet has helped make journalism better than it's ever been. And perhaps in his description of the ways in which he has adapted his communication of knowledge to the technology of our day, those of us in higher education, living through our own wrenching changes, can find some lessons.