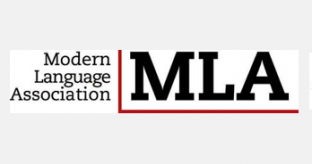 At the Modern Language Association Annual Meeting in January I presented as part of a panel titled "The Praxis Network: Rethinking Humanities Education, Together and in Public." Organized and chaired by Katina Rogers, it brought together leaders and participants of the Praxis Network? including David Bell (Duke),? Matthew Gold (City University of New York), Cecilia Márquez (University of Virginia), Kelli Massa (University College London), William Pannapacker (Hope College), Donnie Sackey (Michigan State University) and me. The question: "How can humanities programs better equip students for a wider range of careers, without sacrificing the core values or approaches of the disciplines?" Thanks to Katina for organizing, and to those who attended for the lively discussion. The following is the text of my presentation.
A leading researcher of interactive media studies was invited to one of America's top universities to discuss the development of a new undergraduate program. After a tour of their world-class facilities, and a meeting with the Dean, he was asked for his advice. The solution, he told them, was to partner with the smaller university down the road. They had created a similar program five years before, with great success. The Dean stared back in disbelief. Finally he spoke: it was simply impossible that they would partner with their "little brother". That was was a small university, after all, while they were one of America's best.
The interactive media researcher tells the story because he's seen many "little brothers" push ahead of their more prestigious peers in the domain of interactive media studies. The reason, he believes, is that the universities out of the spotlight are willing to take a risk on a still nascent field. Leading universities worry about their reputation, and have consequently been late to the party.
His observation doesn't apply to the digital humanities in general, which emerged from major institutions, some of which are represented on this panel. But in the domain of interactive media studies, and in the case of my university, the story rings true. At my institution, the administration and faculty were willing to take a risk on a field that some regarded with suspicion. In 2006 we launched a digital humanities undergraduate major program that we called "Interactive Arts and Science", with a focus on computer games. It was our answer to this panel's central question: "How can humanities programs better equip students for a wider range of careers, without sacrificing the core values or approaches of the disciplines?"
The Interactive Arts and Science program draws on and enriches the study of the humanities because it demands an engagement with the core humanities disciplines: literature, history, art, and music. Our students take courses across the Faculty of Humanities, learning, to take one example, about myths in the Department of Classics, and art in the Department of Visual Arts. They draw on this experience to express, through their creation of interactive media, including computer games, what it means to be human.
The Interactive Arts and Science program simultaneously prepares students for employment, because creating digital humanities artifacts (such as computer games) requires mastery of digital tools and environments, and these skills can be applied to multiple contexts beyond the academic and cultural sector.
Our program has succeeded, as evidenced in i. increased institutional support (new faculty positions); ii. increased participation by faculty across the university; iii. increased student numbers and higher student quality; iv. increased quality of student work-our graduating class placed first in "Level Up", the last (2013) province-wide competition for game developers and; v. in student placement rates after graduation.
One of the keys to our success, and a key differentiator for our program, has been our close relationship with the Generator at One, an interactive media business incubator in our community. We co-created and launched the progenitor of the Generator at One, with the support of local and provincial governments, as well as the private sector and our neighbouring college, a year after we launched the Interactive Arts and Science program.? At the Generator, students pursue internships with companies to get practical experience, and leaders of Gen-based companies teach within the program in courses such as 3D modelling and animation, visual effects, and live-action filming. The partnership has contributed both to the students' success and to the vitality of the area, helping the community as it seeks to evolve from a manufacturing hub to a high-tech centre.
The Interactive Arts and Sciences program also succeeded because of its resonance with key stakeholders.? It appealed to the university administration, which saw in the program a way to differentiate us from our peers. It appealed to faculty with an interest in teaching in an emerging field. It appealed to students who are interested in all things gaming. And it appealed to our government funders, who see these kinds of programs as a way to prepare students to be skilled creators in the emerging interactive media industry, thereby enriching the Canadian economy.
Notwithstanding, or perhaps because of our status as a "little brother", we are equipping students for a wider range of careers without sacrificing our core values.? In his plenary address to the 2010 Digital Humanities Summer Institute, John Unsworth observed that digital humanities seemed "to be bypassing institutions that focus more on teaching than research". By giving DH its own home, a different name, and focusing on interactive media, my colleagues and I at Brock University have succeeding in equipping our students for "a wider range of careers without sacrificing our core values". In these ways this little brother has succeeded, and offered models that its big brothers might want to consider adopting.