Fishing Gifts Under $10
Fishing Gifts Under $10
I should start by stating that I picked these products from my advertiser's offerings. Advertising is a bit of a partnership that all websites need to enter into. We try to pick advertisers that have products our readers are likely to use. Our bit of influence in the matter is choosing to work with advertisers who offer affordable products. We check out advertiser websites, and explore their offerings. Ideally, we would prefer to do hands on reviews. That would make it easier to give one of those awesome things to our awesome readers. Someday……
In the meantime we picked out a few affordable fishing gifts under ten dollars. From leaders to lures, and everything in between. Our goal was to show some cool offerings. You can buy everything you see in this guide right from the links provided.
Outdoor ready adhesive ruler mounts anywhere on your boat for quick, accurate measuring. Include both inches and centimeter increments.
36″ Adhesive Ruler
Sticks to any hard surface
Inch and Centimeter Measurements Under $5
A plastic, jointed version of the legendary Shad Rap that sends out a "distressed-minnow" signal loud and clear. Slightly exaggerated action converts otherwise disinterested fish.
Wide Swimming Action
Suspending
Rhythmic Rattle
VMC® Black Nickel Hooks
Hand Tuned & Tank Tested

Jointed Shad Rap®

DT®
Diving to a preset depth and staying there keeps the DT® in the strike zone longer. Swimming with a side-to-side, sound-emitting action for ultimate attraction. The DT® can be easily cast 150 feet. The farther the cast, the longer the bait stays in the strike zone. It's the most effective way to cover more water and catch more fish.
Quick-Dive Resting Position
Extra Thin Polycarbonate Lip
Perfect Balance
Long-Casting up to 150 ft. Thin Tail Design
Internal Rattle Chamber VMC® SureSet® Tail Hook
VMC® Black Nickel Belly Hook Hand-Tuned & Tank-Tested
Balsa Wood Construction 3D Holographic Eyes
Pro Series Jigs
Unique head design is perfectly suited for penetrating vegetation, heavy structure or open water fishing.
Half skirt gives jig a bug-like appearance
Medium long shank with VMC® Black Nickel hook
Single Rattle Color Matched Brush Guard
Custom jig skirt color patterns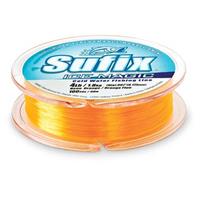 Sufix Ice Magic Line
is an all-temperature Line designed to stay manageable, remain strong and repel water even when the temperature drops below freezing. You know you need Sufix Ice Magic Line if you don long johns before heading out to the water. Ideal for all ice fishermen! 100 yds. Under $5

Therm-a-Seat Heat-a-Seat Cushion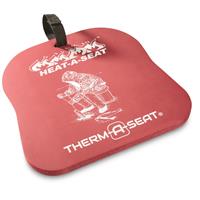 Whether your'e hunting, ice fishing or sitting on cold bleachers watching a sporting event, a little extra warmth and cushioning go a long way toward a more comfortable day. The Therm-a-Seat® Heat-a-SeatTM delivers on both fronts, providing a welcome cushion for your tush and chill-busting heat without the need for batteries or chemicals. SoftekTM closed-cell foam construction reflects and retains body heat to keep you warm, dry and comfortable in cold, wet conditions.
SoftekTM closed-cell foam retains and reflects body heat to keep you warm
Totally waterproof
Velcro® strap for carrying / attaching to gear
13″ x 14″ x ¾" thick
Note: Item will come in one of these colors: Sky, Maroon, Red, Orange, Green or Black. Sorry no choice.


Frabill Line Cutter with LED Light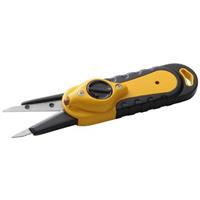 It's a super-sharp angling aid! Slices your line in one clean stroke… no more manual ripping or tearing.
Just one swipe, and you're set! Cuts braids, too! Even has a mini LED light for cutting in darker conditions. Light comes equipped with convenient on / off switch.

Frabill® Lil' Shiner Tip Up Light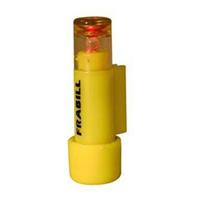 When fish are nibbling at your bait, this Lil' Shiner gets your attention so you can put down the coffee and reel in a whopper! Flashing red LED light signals "FLAG UP!" Ideal for low light and night fishing conditions. ti can be seen from long distances.
Small, lightweight design
Rons on 2 ea. 1.5 volt batteries (included)
Operates on a twist on/off switch
Environmentally friend, non Mercury switch


Shakespeare Wonderpole Telescopic Fishing Rod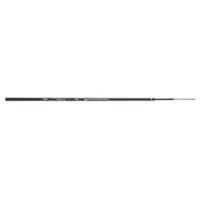 The Shakespeare Wonderpole delivers perfect actions for bream and crappies. Features include textured grip and line keeper, high strength tubular fiberglass blanks and fluorescent-colored tip for easy strike detection. Includes spare rubber cap on poles.
Spinning rod
3-piece blank rod
Spare rubber cap on poles
Line keeper and flourescent colored tip
All of these products make amazing price limit gifts. Our advertisers have about 3000 fishing products available under $10. Our focus group was really impressed by the sheer volume of possibilities that fit our cool factor requirements. We pared the list down to some of the best deals. There are a bunch of free shipping offers if you make a minimum purchase. We're sure you're going to find an easy gift under $10 for the fisherman in your life.
Originally posted 2017-11-14 15:10:33.
Please follow and like us: