Fishing Gifts Under $25
Fishing Gifts Under $25
I should start by stating that I picked these products from my advertiser's offerings. Advertising is a bit of a partnership that all websites need to enter into. We try to pick advertisers that have products our readers are likely to use. Our bit of influence in the matter is choosing to work with advertisers who offer affordable products. We check out advertiser websites, and explore their offerings. Ideally, we would prefer to do hands on reviews. That would make it easier to give one of those awesome things to our awesome readers. Someday……
Our discussion group had a hard time narrowing down the offerings in the under $25 range. They were pretty excited to see the variety of gear available at that price. We found a few things that you will almost never find in a store unless it's a high end outfitter. Everything in this article is available for purchase directly through the links in the article. These are links directly to the manufacturer's website ensuring your purchases are safe and secure. That is such an important thing these days.


Rapala® Pro Staff Tee – Charcoal
Join the winning team with your very own Rapala® Pro Staff T-Shirt. Short sleeve tee features Rapala® Pro Staff logo screen-printed proudly in front. Super soft, these only get better with time. Made of 100% preshrunk cotton, double-needle stitching throughout, seamless collar and taped shoulder to shoulder to minimize stretching.
Rapala Pro Staff Decoration.
Gildan® 6 oz. Charcoal T-Shirt.
100% Preshrunk Cotton. Taped Shoulder to Shoulder.
Double-Needle Stitching. Seamless Collar.


Speed Pro Deep
Constructed for pelagic gamefish. The patent pending "Auto-Tune" free-moving line tie design is self centering, automatically aligning the lure for consistent action at very high trolling speeds, up to 15 knots, with optimum action at 6-10 knots At 15 knots the minnow's smooth swimming action allows the lure to be fished on lighter line, even with a light drag setting.
Heavy-Duty Oval Split Rings
VMC® Heavy-Duty Perma Steel® Hooks
Laser Cut Plate Hook Hangers


11″ Long Reach Pliers
Easily reach deep hooked baits and other hard to reach hooks with ease. Truly one of those "How did I like without it" tools. Co-molded grips for a secure hand while digging deep to save your "lucky Rapala" lure. Nickel plated carbon steel construction for years of rust resistant service.
Extended Reach
Side Cutter
Co-molded Handles


Folding Fillet Board
Simple in design, brilliant in function, the Folding Fillet Board folds for compact storage and transport, then opens for a USDA & FDA approved cutting surface for filleting, slicing and dicing. A perfect choice for fishing, hunting, the kitchen and camping.


Mini Charge 'n Glow
There are things in your life that you wonder how you got along without them and now that you have them, you can never go back. This is one of them. Forever fisherman have been relying on borrowed light sources to charge their glow lures. Camera flashers, key chain LEDs…you know…you've had yours. Now try ours. The Mini Charge 'n Glow is pocket sized, perfect for smaller baits, especially ice fishing.


Fish Camp Fillet
The Rapala® Fish Camp Fillet with a razor sharp stainless steel blade is the right tool for the wide variety of chores around the fish camp. Molded comfort grip handle with finger guard. Includes easy-clean open sheath.
By purchasing or ordering any knife you represent that you are 18 years of age or older and agree that you will take full responsibility for compliance with all applicable federal, state and local laws, regulations and other restrictions. Due to city and/or state regulations, Rapala.com does not ship knives into the City of Chicago or the State of New Jersey.


Rapala® Fillet Glove
Made of Tuff-Knit™ yarn, a comfy blend of natural and synthetic fibers with stainless steel, to provide the best protection ever.


Rapala® Bass American Flag T-Shirt
A favorite coast-to-coast, this shirt salutes America's two passions…Rapala and bass fishing. Distressed American Flag bass silhouette is a natural in early July, working equally as well the other eleven months too.


VMC® Logo Long Sleeve Performance T-Shirt
Performance is utmost at VMC. This performance long-sleeve tee mirrors that mantra. Dark grey with silk-screened logo.


Pinch Tool Combo with Light
The key to success on any day fishing is keeping your line in the water. These tools make fast work of the necessary chores like trimming line, punching out over painted jig eyes and charging up glow baits. Combo includes Stainless Steel Snipper, Jig Eye Punch, LED UV pinch light and neck lanyard.


60″ Magnum Folding Ruler
Get accurate measurements of all your fish. Includes fold up end wall to bump fish against for extreme accuracy. Ruler features large, easy-to-read numbers molded into high impact plastic, large enough to show up in photos. Includes both inches and centimeter measurements. Includes mounting holes for permanent installation or folds for compact storage.


Clam Ice Fishing Combo, Dave Genz Ice Sniper Series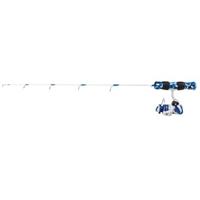 Clam® Dave Genz Ice Sniper Series Ice Fishing Combo.
Catch more fish!
The right rig for the job! Whether you're fishing for fun or looking for tonight's dinner, trust this Dave Genz Ice Sniper Combo for all your fishing needs. Its solid fiberglass rod offers topnotch sensitivity, while the 2 ball-bearing reel keeps the action smooth and steady.
Features:
Solid fiberglass rod for sensitivity and strength
Stainless steel Dynaflow guides
2 ball-bearing reel
EVA foam handle with graphite locking slide rings


Rapala Soft-Sided 30" Ice Fishing Rod Bag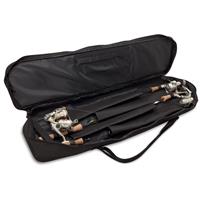 If you're tired of lugging your ice rods in a 5-gallon bucket, grab this Rapala® Soft-Sided 30″ Rod Bag and keep them tangle-free and protected. This handy ice fishing Bag features four separate sleeves for rod manageability along with padded construction for protection from the bumps and bruises of travel.
Stores up to 4 ice rod and reel combos up to 30″
Padded shell prevents damage to your rods from travel and storage
Interior storage pocket for extra gear
Adjustable shoulder strap for easy transport
Four separate sleeves for rod manageability
Measures 30″l. x 4.25″d. x 8″h.
Rods not included


Guide Gear Men's Long Sleeve Fishing Shirt, UPF 50, Mosquito Repellent
Focus on fishing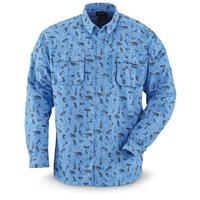 . This Shirt takes care of the rest. For a worry-free day fishing, check out this Fishing Shirt. It's made with lightweight and quick-drying nylon that moves easily with you, cast after cast. It's got one of the highest levels of SPF you'll see in the industry for protection from the sun. And that's not all.
What's the latest scary mosquito-borne disease?
Malaria? West Nile? Zika? Seems like every time you get excited to be outside, the news is reporting about how a mosquito bite can make you ill… or worse. Why, even the mosquito bite itself can be an itchy pain! So for your personal comfort AND health, this Shirt comes with insect blocking technology to keep those biting, stinging pests away while you're enjoying time on the boat, by the lake, or in the stream.
UPF 50 provides top protection from harmful UV rays
Insect-blocking to keep mosquitoes, ticks, etc. away
Vented back helps keep you cool while letting you move without restriction
2 bellowed chest pockets with drain ports, hook-and-loop close
Front zip chest pockets
Sleeves roll up to be secured by buttons
Full button front with button collar
Stand-up collar to protect against sun and bugs
Locker loop.

H.T. Enterprises Sit-Pack Folding Backpack Chair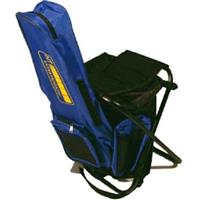 H.T. Enterprises® Sit-PackTM is a Folding chair, Rod holder & Backpack in ONE!
Built-in comfortable folding chair. Dedicated space for ice fishing or break-down rods. All sorts of space for gear. And it folds up light 'n tight for easy totin' to your favorite honey hole! Imported.


HT Enterprises Accucast Wide Arbor 5-bearing Ultralight Spinning Reel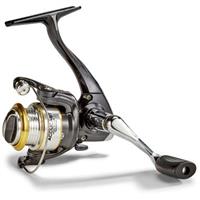 This HT Enterprises Accucast Ultralight Spinning Reel is the perfect addition to your ice fishing arsenal. It has an extra-wide arbor to prevent line coiling and the 5-bearing design provides smooth action when you're reeling in a lunker! Plus, thanks to the longer neck it's great for use with gloves or mittens.
Features:
Extra-wide arbor (spool) for no line coiling
5 bearings with infinite anti-reverse for super-smooth action
Long neck allows for use with gloves
Designed for 1-4 lb. test


Berkley Classic Tackle Bag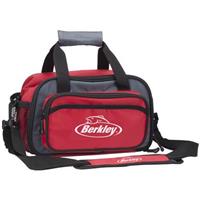 Grab your gear, hook up your boat, and head for the lake. Berkley®'s Classic Tackle Bag has a spot for everything, allowing you to organize your lures and accessories for maximum success and minimal fumbling during your valuable lake time.
Neat and tidy fishing design at your fingertips.
Room for your gear. 2 small-size tackle trays are bursting with storage spots. Zip front and side pockets offer easy access without digging around in the main area. Front grip-strip pouch seals it tight to secure your gear from ending up dumped all over the floor of your boat. When it comes to your next fishing trip, pack light and move quick!
A handy carrier to store lures, hooks, bait and more
Padded interior protects your equipment from hard knocks
2 small size tackle trays measure 9″ x 4.75″ x 1.25″ each
Easy-access side entry
Zip front and side pockets
Mesh pockets to hold your most accessible gear
Front grip-strip closure pouch
Removable padded shoulder strap and jar bait sling included


Casting Spoon Kit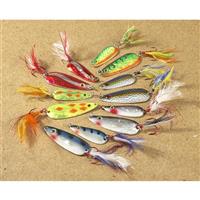 Casting Spoon Assortment of 12. Holographic finish with hand-tied feather trebles. 2 1/4″, 2 7/8 ".


Southern Pro Crappie Tube Kit, 541 Piece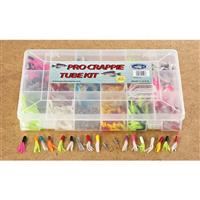 You'll always have the right presentation to catch crappies with a Southern Pro 541-Pc. Pro Crappie Tube Kit. The Scale Head Crappie Tubes come in the full spectrum of colors along with unpainted jig heads. Including the hard case, you get 541 pieces in all. A tremendous value to keep your live well and tackle box fully-stocked for years!
Reusable 18 compartment tackle box
Contains 510 Pro Series crappie tubes
17 different colors included
A collection of 1/48 oz. jig heads


Eagle Claw Raptor Spinning Rod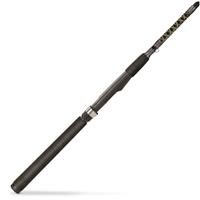 If you're looking for ultimate in durable fishing gear, look no further than the Eagle Claw® Raptor Spinning Rod. This Rod is built to meet every challenge head-on. Incredibly strong. Totally affordable. Raptor Spinning Rods will keep performing like new long after other rods have hoisted their last fish.
Super-strong Raptor composite blank never gives up
Lightweight graphite reel seat
Stainless steel guides with aluminum oxide rings promote smooth casts and retrieves
Ultra-durable hard EVA handle is built to last
Protective rubber buttcap
Hook keeper
Originally posted 2017-11-14 18:01:48.
Please follow and like us: