Fishing Gifts Under $50
Fishing Gifts Under $50
I should start by stating that I picked these products from my advertiser's offerings. Advertising is a bit of a partnership that all websites need to enter into. We try to pick advertisers that have products our readers are likely to use. Our bit of influence in the matter is choosing to work with advertisers who offer affordable products. We check out advertiser websites, and explore their offerings. Ideally, we would prefer to do hands on reviews. That would make it easier to give one of those awesome things to our awesome readers. Someday……
We had a fairly wide field to pick from at the under $50 range. Quite literally tens of thousands of options. We looked for the cool factor and best value.


MarCum Performance Quarter Zip
$39.99 MarCum leads the way in fishing electronics. Take the lead of your crew in this dry wicking, anti-microbial long-sleeve performance quarter zip. Zipper closure aids on controlling your core temp while 100% polyester interlock fabric provides breathability under any condition. Chest crest graphic graces this dark grey heather garment.


50 lb. Sportsman's Digital Scale
$26.49 Compact and extremely accurate, the 50lb. Digital Scale offers high-end features at a value price. Measures in both pounds and kilograms.
Large Display 4 Minute Shutoff
Battery Life Indicator 500 Hour life
Stainless Steel Hook


Master Kit
$37.99 A great starter pack or a one-off weekender kit. 4 all-around lures that will do well for Dorado, Tuna, Bonito, etc. Easy-to-clean mesh storage bag.
Kit Includes:
1 – Dorado Jig 1-1/2oz.
1 – Dorado Catcher 6″
1 – Sailfish Catcher 5″
1 – Tuna Catcher Rigged 5″
All lures are pre-rigged with premium VMC® hooks Easy-to-clean mesh storage bag



Rapala LED Cap
$18.89 The 4 LED Rapala PowerCap hats combine Panther Vision's Patent Pending Ultra Bright LED technology with the #1 Fishing brand in the world. The hats are a great new tool designed for more productive night fishing. It's so simple and easy to use, it's like having a head lamp or flashlight built right into your ball cap! The Rapala PowerCap have LED's integrated and concealed under the brim of a lightweight hat, making it one of the most innovative hands-free lighting accessories on the market. Producing an astounding 48 lumens of light and offering over 43 hours of battery life, this cap will become one of your favorite tools to use when fishing. Four (4) replaceable lithium coin CR 2032 batteries included. Imported. One size fits most.
Two 3mm narrow-angle LED's for distance lighting
Two 3mm wide-angle LED's for close-range tasks
Produces 48 lumens of light and will last 100,000+ hours
Rugged Tactile switch hidden in the brim prevents the hat from being turned on accidentally
Washable
Easy on/off switch under the brim
Batteries are easily replaceable


Pinnacle Deadbolt Baitcasting Fishing Reel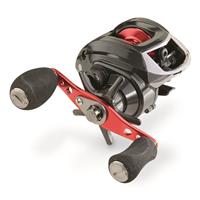 $29.99 To own one (or possibly two) of these Pinnacle® Deadbolt Baitcasting Fishing Reels you need to strike as quick as "smallie" on a shiner! Get Close-Out pricing along with a high speed 6.3:1 gear ratio that makes this versatile reel perfect for topwater casting as well as trolling. Precision gears, magnetic cast control and a 6 bearing system gives you silky smooth action for long-casts and drop shots. You can test your patience on the water, but to own this top quality baitcasting reel, ACT NOW.


Shakespeare ATS Trolling Fishing Reel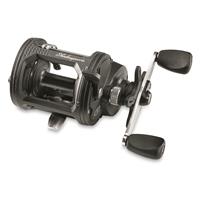 $44.99 Get ready for some offshore fishing, trolling or deep-sea fishing with this Shakespeare® ATSTM Trolling Reel. Shakespeare® reels are known for their rugged, go-anywhere toughness with a price tag you can't argue with.


Guide Gear Ice Fishing Rod Case, 6-Rod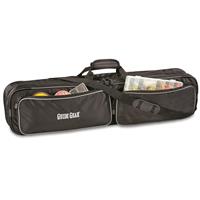 $34.99
Sure, your ice fishing rods and reels are smaller than your summer gear. But they can still be a hassle to store and transport. Not anymore. Our Guide Gear® Ice Fishing Rod Case simplifies everything. Stores up to 6 rod & reel combos, plus it has two spacious, zippered exterior pockets for storing tackle and gear.
Holds up to 6 ice fishing rods / reels Adjustable shoulder strap
Durable nylon construction is built to last
17″l. x 6″h. x 5″d. exterior pockets with zipper


Okeechobee Fats T1200 Large Tackle Bag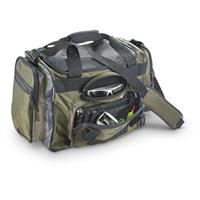 $39.99 A place for everything, and everything in its place. Having a well-organized tackle selection makes your time on the water that much sweeter. Room for utility boxes in the main compartment, as well as pockets all over for keeping your most-used tools in easy reach. No contest!


Frabill Aqua-Life Premium Portable Aerator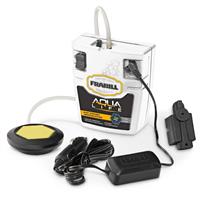 $39.99 Saltwater bait needs air too.
Shhh… it's bubblin'. Quiet is the name of the game with this Premium Portable Aerator. It can be attached to any cooler or bucket, to create a healthier environment for all saltwater fish. The whisper drive makes it almost silent as you are trolling through your favorite spot.
Your bait, and / or fish in your livewell, will never be happier or healthier. You can easily aerate up to 15 gallons of water with this bad boy. It was specifically designed and tested by Frabill on saltwater fish, so you know it is ready to go. Now, all you need to do is convince your wife that you need to get on the water for some quiet time.


Organized Fishing 20 – Rod Floor Rod Rack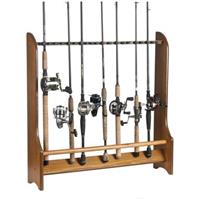 $49.99 You've got quite a collection… keep it safe and ready to fish!
You know the "golden spots" where they're biting … and you have just the right Rod Combo for every spot, and all the fish species you're after. That's why you need this high-capacity Floor Rack! Comes with a variety of clip sizes which can be added or removed to give you a custom fit! Beautiful hardwood veneer has a rich oak stain. Perfect for getting all your rods organized and in one place for protection and quick grabs!
Prices are current as of publishing date. Everything listed can be purchased right from the links.
Originally posted 2017-11-15 19:06:28.
Please follow and like us: