Hunter uses air gun to take a deer
It was the second day of Michigan's 2017 firearms deer season. Darkness was looming and deer, creatures most comfortable during low light conditions, were beginning to stir. A fat doe wandered by about 45 yards in front of Evart hunter Hal Hutchinson, and he squeezed the trigger on his rifle. His aim was good. His bullet hit just behind the doe's shoulder, and the bullet passed all the way through the deer. The blood trail was also good. Hutchinson found his quarry about 100 yards away from where it stood when he shot.
Lots of hunters begin filling doe tags soon after the season opens. Nothing was really remarkable about the kill except this one thing: Hutchinson shot the deer with an air gun.
Air gun technology isn't really new. In fact, some historians claim blowpipes – tubes through which
people of some cultures would blow a breath of air to shoot a dart – are the forerunners of modern air guns. The oldest existing air gun was manufactured sometime around 1580, and a "wind rifle," the brain child of one Bartholomaus Girandoni, accompanied Meriwether Lewis and William Clark on their famous excursion across the western part of the North American continent. That gun fired lead balls up to 1,000 feet per second and was no play toy. It was later that BB and pellet guns became a ubiquitous part of childhood life in the states.

It is difficult to find numbers regarding the number of serious air gun hunters in the United States and Hutchinson knows of but one person besides him pursuing deer in Michigan with a pneumatic rifle this season. Still, Hutchinson is certain the group is growing.

And there's little reason not to use an air gun. State law allows them to be used for deer hunting if they're .35 caliber or larger and they use an outside air source. Check the game regulations for complete details. Hutchinson shot his deer with a .357 caliber Benjamin Bulldog. A 145-grain bullet leaves the rifle traveling 900 feet per second. Out to 75 yards or so, the bullet retains enough energy to do the number on a deer. And Hutchinson can squeeze off 10 rounds before his projectiles begin dropping noticeably.
Hutchinson bought his Bulldog about six months ago, so this is his first year to hunt deer with it. He isn't a one-trick pony, though. He has a .25 caliber air gun he uses for squirrel hunting.
The Bulldog has some of the same advantages Hutchinson's squirrel gun has. First, although it makes a very palpable noise when discharged, it is still quieter than a conventional rifle is. It is quiet enough that Hutchinson doesn't bother wearing hearing protection while at the range. The second advantage is that the rifle has little recoil.
Good quality air guns aren't cheap. The list price for some typical models is about $850. After a shooter has the gun, though, the cost of shooting is the cost of the bullets. And, as Hutchinson said, the air gun can just offer a person "a neat time."

Benjamin Bulldog PCP Air Rifle, Bolt Action, .357 Caliber, 5 Rounds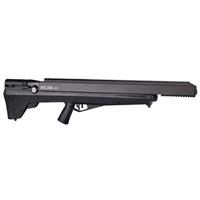 $699.99 We found this one over at The Sportsman's Guide. They have the full line of these buckos on hand. Get yourself one and have the coolest gun on the range.
Originally posted 2017-11-25 11:45:38.
Please follow and like us: